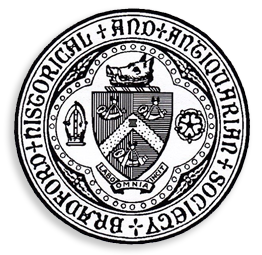 Welcome to the Bradford Historical and Antiquarian society.
The Bradford Historical and Antiquarian Society is the oldest local history group in the district, having held its formal inauguration meeting on the 12th July 1878.
The founder members included William Cudworth, William Scruton, T.T. Empsall and James Horsfall Turner, amongst others famous in Bradford local history circles.
History of the Society
For more information about our past you can read a pamphlet written in 1978 to celebrate our first hundred years of existence.
Lectures and Visits
We still hold regular lectures from September through to May, and often arrange visits and walks in the summer.
Library
We collect and examine the records of Bradford's past and we have a library with an impressive range of books, which members may borrow free of charge.
Membership
We are always happy to welcome new members, and if you wish to join you may do so at any of our meetings or by completing a membership application form.
The Bradford Antiquary
We produce a journal, The Bradford Antiquary, which is now published annually in the autumn. A free copy is provided to each member or joint subscriber.The most recent volumes and some older ones can be ordered from us. Most of the back numbers (from 1878 to 2015) are also available in digital format and the text is searchable.
(See more information via the link above.)
Help with research
We don't provide it! We are sorry, but we just don't have the time to help people outside the society with their queries or research. If you are chasing a reference from one of our publications then we may be able to help in locating a copy (bhas@bradfordhistorical.org.uk ). Otherwise, all the help we are able to provide is already on this website.
Obtaining books reviewed on this site
We sometimes get requests asking us to provide information on how to obtain copies of books reviewed on this site. We don't have this information. Please remember that these reviews are several years old and many of the books will be out of print. Members of the society will be able to find copies of some of these books in the society's own library.
Privacy policy
You may view our Privacy Policy here.