Old Photographs of Bradford, No. 1: Wapping
Paul Jennings
(First published in 1991 in volume 5, pp. 53-57, of the third series of The Bradford Antiquary, the journal of the Bradford Historical and Antiquarian Society.)

The Wapping district of Bradford grew from the early years of the nineteenth century. It was bounded on the one side by the ancient highway of North Wing and on the other by Bolton Road, built by the Eccleshill and Bradford Turnpike Trust and opened for traffic in 1827. Wapping Road itself a branch of that trust, traversed the neighbourhood.
From the beginning it was a poor area. The Woolcombers Report of 1845 on the sanitary condition of Bradford described it as 'an ill paved, extremely filthy neighbourhood'. Even into the twentieth century the night soil men continued to empty the privy middens there.
Besides its houses closely packed on the hillside, the neighbourhood had a great variety of shops, including grocers, newsagents, butchers, confectioners and pawnbrokers, as well as numerous pubs: three in Wapping Road alone, the Gardeners, the Richmond House and the Union Cross. There were also two schools, Wapping Road (still in use) and the church school in Captain Street, now the Cathedral Centre.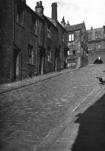 Another feature of the area was its lodging houses, one of the largest of which, accommodating 108 lodgers in 1881, still stands in Captain Street, though put now to different uses.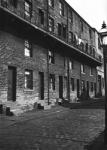 Though certainly a 'poverty-stricken area' as one former resident remembers it in the 1920s, it was also, he recalls, one with a vibrant 'communal spirit'. In the 1930s much the greater part of it was demolished and is now covered, fifty years later, by a section of the inner ring road.
These photographs of the Wapping clearance area were taken by Jack Rooley, Public Health Inspector for Bradford Borough Council in 1935.
© 1991, Paul Jennings and The Bradford Antiquary