John Thornhill - A Profile
(First published in 1986 in volume 2, pp. 70-71, of the third series of The Bradford Antiquary, the journal of the Bradford Historical and Antiquarian Society.)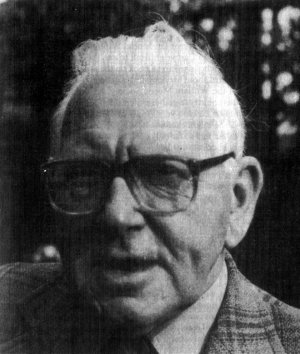 Mr & Mrs Thornhill, who although not inseparable are often together, joined the Society in 1964. John acted as Librarian for many years, was installed as President in 1981 and is still an active member of the council. I have known him for about forty years and some time ago when I needed information about Bradford's through railway schemes I approached him with my queries. He replied by giving me a complete set of lecture notes, twenty-seven pages, with an appendix of beautifully produced maps and diagrams. This example is typical of his methodical approach to life. He is in great demand as a speaker, and known far and wide for his illustrated talks, usually on communications - roads, railways and canals, but easily able to launch out into 'The Crossing of Morecambe Bay'. His preparation is meticulous and he rarely uses notes. Joan Thornhill, who usually acts as projectionist, forms part of a very efficient team.
John was born in Morecambe, and his father, who worked for the Midland Railway was based at the Promenade Station. There is no evidence that young John ever wanted to be a train driver, but he became interested in railways at a very early age. In 1945 he joined the newly formed Bradford Railway Circle, which met in a former cafe on the old Manningham Station. He made his debut with a talk on the Furness Railway and in 1985 was asked to repeat it as part of the Circle's fortieth birthday celebrations.
Voluntary service has always claimed a big share of John's time. For over fifty years he was a member of the Parochial Church Council at St. Margaret's Church, Thornbury, where he also served as churchwarden and Sunday School Superintendent. He is still an active member of the congregation. Thirteen years ago he was asked to write the early history of the church, which he did with his usual thoroughness. But he is a reluctant author, as I found when I pressed him to write an article for the Antiquary. From my own poor attempt to grapple with the subject I knew that Bradford's through line schemes had never been explained in a way that ordinary people - we keep using that term - could understand, so I asked John to tackle the job. He produced a carefully documented account, which was still very much a railway enthusiast's piece, so I went back to him with my questions, and gradually a very protracted and complicated part of Bradford's history was made plain, even to me.
It will come as a surprise to many people to learn, as I did recently, that John Thornhill's real interest, when he has time to pursue it, is not railways, roads or canals, but ecclesiology. It is this which has led him and his wife to visit over a thousand churches - not just to 'look around', but to note architectural features, furnishings and the setting of worship. Of course, they have taken photographs.
John Thornhill is an active historian. He likes to cover the ground, to see 'the thing itself, and that is why societies ask him to speak to them again and again. His name has, of course, appeared on our own lecture programme many times, but only once, in December 1969, has he preferred the perpendicular to the horizontal. He then spoke on 'Some antiquarian features of English churches'. I think we ought to ask him to take up the theme again.
J.F.
© 1986, The Bradford Antiquary