The Morris Windows in Bradford Cathedral
(First published in 1985 in volume 1, pp. 56-61, of the third series of The Bradford Antiquary, the journal of the Bradford Historical and Antiquarian Society.)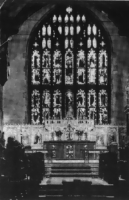 In 1671 the stone tracery of the east window of Bradford Parish Church, now the Cathedral, was replaced at the expense of Lady Maynard, the patron of the living, when an eight-light window was inserted. In 1863 this in turn was replaced by a seven-light perpendicular window, given by Mrs. Richard Tolson in memory of her late husband.
Richard Tolson was a Bradford solicitor who died in 1847, during the period when alterations to the parish church were under discussion. Rival schemes of restoration and complete rebuilding came to nothing for lack of funds, but by the early 1860s, under the guidance of the vicar, the Rev. John Burnet, restoration began. Members of the congregation would no doubt be invited to make contributions towards the scheme and it was probably at this point that Mrs Tolson decided to present the memorial.
One of her husband's old friends, John Aldam Heaton, of 'Woodbank', Harden, suggested that the glass should come from the recently-established workshop of Morris, Marshall, Faulkner & Co. of London. Although this was said to be only their third commission, Heaton was so confident of the quality of the firm's work in stained glass that, in describing the window, he said,
"the old tracery (of Jacobean character) was considered unfit to receive this valuable glass and it has been replaced by an entirely new window of the Perpendicular type, as more in harmony with such portions of the old church as remain."1
The window, with three rows of tracery above seven lights divided by a transom, was the work of several artists. Morris himself designed the angels in the tracery, in addition to several of the figures, the rest of the work being completed by his associates, Edward Burne-Jones, Ford Madox Brown, Dante Gabriel Rossetti, Peter Marshall and Philip Webb.
The theme of the window might be described as 'Witnesses to Christ', as Jesus, in the upper centre light, is surrounded by four tiers of figures representing, in descending order, the Women who ministered to him, the Evangelists, the Patriarchs, and the Prophets who foretold his coming. The right hand of Christ in Majesty is raised in blessing and the left hand holds a golden orb surmounted by a cross. This is the work of Rossetti. The venerable figure of the patron saint, Peter, designed by Peter Paul Marshall, occupies the lower part of the central panel. His green cloak discloses a white robe, and from a golden chain round his neck hang two not very traditional keys and a bible. The panel is completed by Philip Webb's Agnus Dei, the lamb being separated from the figures by a border of daisies within circles.
The figures in the other six lights are enclosed vertically by borders of red, blue and green interspersed in the lower half by leaves and fleurs-de-lys, and in the upper by a crowned rose. The backgrounds, by Webb, consist of floral patterned quarries on which there are ribbons bearing the appropriate Latin names. Even without the names it is possible, with a passing knowledge of the bible and a little ecclesiology, to identify all the figures. Each one carries its own distinguishing mark. The Virgin Mary holds a madonna lily, and Mary Magdalene a jar of ointment. Martha, with sleeves rolled up, appears ready to tackle the housework, but her sister, Mary, seeks consolation in a book. The Evangelists bear their own symbols: Matthew, an angel; Mark a lion; Luke, a winged ox, and John, an eagle. Suitable texts help us to identify some of the Old Testament characters, but David holds a harp and ravens minister to Elijah.
All the work produced in Morris's workshop was carefully documented and thus we know who was responsible for individual parts of the window. Morris himself designed the angels, which originally occupied three tiers. surrounded by slit lights, beneath the dove in the octofoil of the apex. Rossetti designed Christ in Majesty and Mary Magdalene, whose costume he was asked to redraw, as the first version was considered 'inappropriate for its destination'.2 Various Minute Books also record the fees charged by the artists. The Virgin Mary, Daniel, Ezekiel and Jacob cost £3 each; Mary of Bethany, Isaiah and Jeremiah £2 each, and the Agnus Dei £1.10s. As was customary the cartoons drawn for one commission were often used for another and 'The Majesty', in a smaller version, appeared in St. Paul's Church Manningham, Bradford. It is still there, but not in its orginal setting. John Baptist and Ezekiel had previously been used elsewhere, while all the other figures appeared first in Bradford Parish Church. St. Peter, Agnus Dei, Mary Magdalene, Moses, Solomon, Jeremiah and Daniel are unique to this window.
John Aldam Heaton, who was one of the first in this district to recognise the merits of the work of Morris and his friends, drew attention to the characteristics of the Tolson window. He pointed out the limitations imposed upon the artists by the seven narrow openings, which, in his opinion, ruled out any kind of pictorial. composition. This difficulty was overcome by surrounding 'The Majesty' with figures constituting a unifying theme - a cloud of witnesses.
The fact is that William Morris was reviving a craft whose subtleties had been submerged in productions of a routine, stereotyped nature, for Heaton says,
"Compared with modern work generally, the drawing will be found particularly vigorous and forcible; the faces and the limbs boldly defined by line, rather than shaded or minutely worked up, the flesh tints particularly well obtained - a matter often missed - and the colour generally founded on an artist's appreciation of the value of gradation and harmony, rather than delighting in crude colours and striking contrasts."3
It is no secret that stained glass depends for its effect on light which shines through it, and the east window is well placed to take full advantage of the morning sun. It is then we are most likely to share the writer's admiration for Morris's use of gold to achieve, not striking contrasts, but a harmonious suffusion of colour. He continues,
"Especially I would point to the red, which is everywhere in this window full of lovely gradation from deep mulberry to the most brilliant ruby and passing often … into a sort of ruddy cedar tint … In the same way greens … are here inclining to olive and always in a state of gradation from dark to light."
A hundred years later A.C. Sewter emphasised the telling use Morris made of yellow stain.
"He used it to tremendous effect, not only as a major element in schemes for draperies, hair and other details of figures, but especially for rendering on glass an equivalent of embroidered and damask designs on costume.4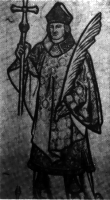 He then goes on to cite the St. Cyprian cartoon of 1864 (a figure in the former south chancel window of Bradford Parish Church) as a good example of how Morris designed draperies incorporating yellow-stain ornaments which showed up most effectively against white grounds.
Sewter, former Head of the Department of Fine Art at Manchester University, to whom we are indebted for much of the information about this window, was engaged in research for his work The Stained Glass of William Morris and his Circle when the extensions to the east end of Bradford Cathedral were taking place, from 1958 to 1963. He was in correspondence with Mr A.E. Simpson, one of the churchwardens, regarding the Morris glass and was thereby instrumental in ensuring that it was faithfully transferred to the new Lady Chapel.
When the old chancel was being demolished in 1958 the glass from its three windows. two of them by Morris, was removed, not always as carefully as might have been. It had already been decided that the glass in the east window was to be re-used in the new Lady Chapel, but that in the north and south windows was stored for future use. The authorities wanted the new east window to be as light as possible and proposed to set the figures into antique glass, thus discarding the original backgrounds. It was at this point that Mr. Sewter entered into correspondence with Mr Simpson, and on visiting the cathedral pointed out that once a century's dirt had been removed from the glass it would admit much more light.5 He was shocked at the proposal to remove Webb's backgrounds, which he regarded as an act of vandalism, insisting that they formed an essential part of an artistic whole and that the value of the window would be diminished without them. Fortunately his advice was accepted and the backgrounds were retained.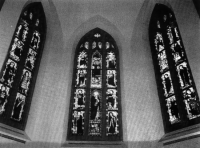 When the window was re-designed for its new position, five of the six angels in the top tier of tracery were given to the Whitworth Art Gallery in Manchester, the sixth being too damaged to preserve, having been inserted the wrong way round in 1863. The other two tiers of tracery were arranged to form one tier, eight angels being used along with the octofoil and some comer lights, while four were altered to make more corner lights. Three windows were now made, a centre one of three lights, with a two-light window on each side in the semi-octagonal apse.
The alterations involving, we are told, 30,000 pieces of glass, were carried out in the workshops of E. Pickett & Co., Hunslet Road, Leeds.
The other Morris Window, installed in 1864, was on the south side of the chancel. It was given in memory of Mary Hartley of Fulford Grange, York, a native of Bradford, who died in August 1862. The glass, now stored in a crate, suffered some damage during removal, particularly in the foils at the head of each light.
The upper part of the centre panel contains Salvator Mundi: Jesus, in green cloak and white robe, stands with right arm raised, holding a Latin cross fleurée. Beneath this figure is Philip Webb's design of a pelican feeding its young. There are four saints on either side of the centre panel, two to each light: Stephen, Barnabas, Andrew, Jude, James the Less, Cyprian, James the Great and Alban. Morris's notebooks show amounts of £2 each for designing 'a beastly James and Jude', £1-10s. for St. Alban, and for a large figure of St. Stephen, £2-2s. The window, when completed, cost £300. All the designs, except for St. Barnabas and the pelican, were first used in this window, and the designs for Salvator Mundi, James the Less, Jude and Cyprian, are unique to it.
References
1. Bradford Observer, 3.12.1863. (back)
2. A.C. Sewter, The Stained Glass of William Morris and his Circle, 2 vols, 1974 & 1975, ii (A Catalogue). p.28. (back)
4. A.C. Sewter, 'William Morris's Designs for Stained Glass'. reprinted from the Architectural Review, March, 1960, p.200. (back)
5. Correspondence, Sewter - Simpson, 1958 & 1960, in Bradford Cathedral Library. (back)
See also: Bradford Parish Church Magazines, 1899, for an account of the windows by A.B. Sewell.
Morris Glass in Bradford Cathedral
(The initials in brackets denote the designer).
East Window
Originally installed as a single seven-light window in Bradford Parish Church - 1863.
Re-ordered as three windows during cathedral extensions (1958 -1963).
Centre Light
Christ in Majesty (Rossetti)
St. Peter (Marshall)
AgnusDei (Webb)
Figures in the four tiers, reading from left to right. Distinguishing marks or symbols in italics.
Top tier
Anna the prophetess (PPM)
Elizabeth with young John Baptist (FMB)
Virgin Mary holding madonna lily (BJ)
Magdalene holding jar of ointment (DGR)
Martha prepared for much serving (DGR)
Mary (her sister) carrying book (WM)
Second tier
John Baptist in rough attire (WM)
Matthew angel in crook of left arm (FMB)
Mark lion across breast (BJ)
Luke clasping winged ox (WM)
John eagle on right arm (FMB)
Paul with large knife and scroll (FMB)
Third tier
Abraham with Isaac as a boy (FMB)
Isaac in manhood (FMB)
Jacob holding mess of pottage (DGR)
David with harp (BJ)
Solomon holding sceptre (PPM)
Joseph (husband of Mary) with staff (WM)
Bottom tier
Moses with tablets of stone (PPM)
Isaiah and Jeremiah carrying scrolls (WM)
Ezekiel standing in prayer (DGR)
Daniel 'Mene, mene …' (DGR)
Elijah being fed by ravens (WM)
In the tracery above each of the main lights are angels, by Morris, some playing instruments and others in attitudes of praise.
An inscription at the base of the right hand section of window reads
"To the Glory of God with all love, in memory of Richard Tolson late of Bradford who entered into rest the 23rd day of October A.D. 1847 in the 54th year of his age this window is dedicated by Sarah Elizabeth Tolson, widow, Sarah Martha, Mary Rebecca, and Sophia Louisa Tolson, his children in the year of grace 1863."
The original window was much lower than the present one. It is difficult to make out the smaller detail now without binoculars.
South Chancel Window
Formerly in Bradford Parish Church - 1864.
(Glass now in store at the Cathedral.)
Originally a perpendicular window of five cinquefoil-headed lights beneath three tiers of tracery. Installed in memory of Mary Hartley of Fulford Grange, York, who died in August 1862.
The tracery, by Morris, depicts a series of angels, some playing instruments, others holding wreaths and chaplets, against a background of lattice-work patterned with gold flowers. The corner lights show a pattern of leaf design with a latticed border.
Centre light
Salvator Mundi (Albert Moore)
Pelican feeding young (Webb)
Upper tier (reading from left)
Stephen being stoned (BJ)
Andrew with cross (FMB)
James the Less with a book (BJ)
James the Great scallop shell (WM)
Lower tier
Barnabas with book (WM)
Jude with staff and palm (BJ)
Cyprian in episcopal dress (WM)
Alban with sword (BJ)
Each figure is holding a palm leaf and his Latin name is set in the background of floral or foliated quarries.
© 1985, Mary Lister, B.D. and The Bradford Antiquary