The Bradford Family
William Cudworth
Series 1, Volume 2, 1895
(Paper read before the Society April 12th, 1889)
I MUST commence this paper not with, an apology but with an explanation, When I began collecting material for it, about two, years ago, I did so in the hope that I should have been able to have given it the title of "The Bradford Family of Bradford," but am only able to affix the shorter title of "The Bradford Family." However, it is not the function of the Antiquarian to manufacture history, but rather to construct and shape it out of the materials at command. In this spirit I have acted in the compilation of this paper. Such as it is I am indebted very much to Mr. J.G. Bradford, of, London, whose information on the subject been invaluable. His evidences, are generally confined to the Bradfords who settled at Warmfield, Heath, and Stanley near Wakefield, to which attention will be largely directed.
Before doing so, however, it may be well to notice the ambiguity which exists in respect to the arms of Bradford and the Bradford family.
In James' "History of Bradford," page 97, it is stated - "These arms are, according to current representation, Gules, a chevron or, between three bugle horns strung sable. Crest, a boar's head erased,- evidently pointing to the slaying of a boar, and the curious tenure by Cornage, mentioned in the preceding part of this history, the winding of the horn in Bradford Market Place being no doubt coeval with the origin of the tenure."
Whitaker, in his "History of Craven" second edition page 84, says that in a window of Bracewell Church there were for the arms of Bradford, "A leopard's head erased between three bugle horns strung sable," a daughter of John Bradford, of Heath near Wakefield, having married a younger son of Sir Richard Tempest, of Bracewell.
Glover, in his Visitation of Yorkshire in 1594, gives the same arms to the Bradford Family of Stanley, near Wakefield.
Brook also mentions that when he visited Bolling Hall there were the same arms as those mentioned by Whitaker, viz: "A leopard's head erased between three bugle horns strung sable."
In the Bradford Chapel of Warmfield Church, near Wakefield, are the same arms of Bradford (Argent, a wolf's head erased inter three bugle horns tyed S. in the midst of a string an annulet or) impaled with Watton.
Finally, Dodsworth stated that in the year 1629, there was in the East Window of the Parish Church at Bradford, a lion's head erased, inter three bugle horns sable, an annulet argent. It is generally understood that Dodsworth mistook the head of a boar for that of a lion. At any rate these armorial bearings remained in the Chancel window until a comparatively recent period.
Thus we have, as a leading symbol in connection with the arms of Bradford, the head of a boar, a leopard, a wolf, and a lion. How this difference came about it is scarcely necessary to our purpose to inquire, but there can be little doubt that they were modifications or misreadings of the same armorial bearings.
The more important question remains - how did the Coat of Arms as seen by Dodsworth in the Parish Church come there, and were they the arms of the town, or of some family of the same name? The late Mr. Ed. Hailstone, who well remembered the arms in the East Window of the Church, on one occasion wrote me: -
"The Bradford arms are a fiction altogether and made up out of those of the Bradfords of Stanley near Wakefield, an important family in their time, but who had never any connection with Bradford."
Meanwhile it will be desirable to glean some particulars of the Bradfords of Stanley and Heath, with a view to determine whether they had any connection with the town of Bradford.
The earliest Bradfords of whom we have an, record are described as of "The Heath," near Wakefield. The Heath is the Common of the Manor of Warmfield, near Wakefield. The Parish Church of St. Peter there indicates the site of the original village of Warmfield, which has been called Kirkthorpe for some time. Warmfield itself is only a scattered agricultural vllage dividing Heath Common into two. Around the latter are the mansions of families of distinction. Heath Old Hall is one of the finest specimens remaining in Yorkshire of the Elizabethan period, said to have been erected by, John Kaye, whose arms over the entrance are surmounted by those of the Queen in whose reign the Hall was built. John Kaye, however, appears to have been unable to maintain its dignity, as none of his name has since resided there. Heath Old Hall passed into the line of John Smyth Esq., who acquired a fortune in commerce at Wakefield, and purchased the Heath estate in 1707. He was baptised at Wibsey Chapel, North Bierley, in 1654, and was the son of John Smith or Smyth of Miryshay, Barkerend, Bradford.
According to Testamenta Eboracensis, William Bradford, of the Parish of Warmfield, made his will on December 1st, 1474, and it was proved 23rd January, 1476. In it he orders that out of his lands in Preston-Jacklyn, Featherstone, and Ayketon, a chaplain be paid for seven years, three of which are to be at Warmfield-cum- Heath, and four in the chapel of the Holy Trinity and St. Sitha, near the Ivebridge in Bradford, to say mass for the soul of the testator and Thomas Herring, of Croydon in Surrey, Nicholas Currer, Thomas Brown, William Rothwell, John Lake, Sen., Richard Bold, Thomas Beaumont, Sen., and Thurston Bonastre. To Isabel his wife, he leaves his lands in "Le Heth" and Over-Walton for life. To Brian, his son, he leaves his lands in Stanley, Overthorp, and Wakefield. To George Bradford, son of Brian, his son, his best stand piece silver and gilt. To Constance, his daughter, a legacy, and residue to his eldest son, John Bradford. His wife Isabel, and his sons John and, Brian, were named executors.
Following the line of the eldest son, John Bradford, called the elder, we quote from his will dated April 1st, 1495. In it he desires, to be buried "in my Parish Church of Warmfield, in a chapele which is in byldng, there in the north part of the same afore one ymage of our Lady to be set upon the same syde," &c. Continuing, he adds:-
"I will that every year an obite be done by my prest Sr. William Okes which I put in ther to synge for the, soule of me, Agnes, my wife, our childer, my fader, moder, and myn heires. I will that if it fortune me to decease at Salley where I now am, I bequeath to the abbot and convent ij. oxen in recompense for the charge done of me, and for to say a trentall of messes called Saint Gregory Trentall for my soule. To Alice Watton (Waterton) my doghter xls. to help her and her childer. To Jane my doghtet two quies. The residue of my lands to my cosin and heir, William Bradford but if he vex trowbill or interrupt any of these persons to whom my estate shall be made, then retayn and keep them from him. And also if he doo so doo, then the sentaunce of Almighty, God with my curse and malison, and his moder's and grand-dames' descend and fall upon, hym and all his partakyrs therein; and if he do not contary to this my will in no poynte, then the grate and holey blessyng of Almighty God descend and fall upon him and his blode which shall be lawfully begotten of his body.
"Yeyen at the Abbey of our Lady of Salley."
The disposition of the testator's property. which forms a part of his will, contains several interesting references. He says:-
"I have made a state of all my lands in Warmfield, Heth, Sharleston, Walton, Sandall, and in the parish thereof, Wakefield, Bradford, or in the parishes thereof, Bingley, Baildon, Federston, Aketon, Auston, Skelton and Burghwales, Ferrybridge, York, &c., to Maister, Archdeaken, that is to say Sr. Robt. Frost, parson of the Church of Thornhill, Thos. Wentworth, and to Brian Bradford. I desire they make estate unto my sonne John Bradford of two messuages, &c., called Boldhame, (qy. "Boldshawe,") certain closes called Barrode, and one littel close upon the West side over the beck there; certain closes under Bradford Cliff and joyning unto the water called Bradford bek called Robynrod. late purchased of Richard Grene; a messe, &c., in Wilsden'; a free rent of vs. out of lands at Coken (Cockin); a farm rent of xiijd. out of lands of Rich. Robinson, in the same town; a messe. &c., in Horton, late purcased of John Layburn; a close called Magdynge in Manningham, with a piece of lande lynge togeder and sumwat enclosed, in Bradfod. A messe. &c., in Baildon; a tenet. in Wakefield, to him (i.e. to his son John) and his heirs male
"To my son Walter Bradford, a chiefe messuage, called Newsome Grange; the lands in Auston, Skelton and Burghwales; a free rent of ijd. by the, yere of the prioress of Hampole of a close in Skellow called Humbirkode, a messe &c in Walton, and a free rent of ijd. out of the chantrie land there called Our Lady. Land; a mere with a croft in Kirkgate, Wakefield; a close at Burnamtofts, Wakefield; a cottage in Bradford with garthe; iij acres and ½ a rode in Sharlston.
"To my son Chrisr. Bradford, a messuage in Micklegate, Pomfret, &c.
"To Agnes, my wife, my chief messuage in Preston Jakelyn, my lands in Warmfield, Kirkthorpe, and the Heth.
"An estate to my broder Brian Bradford, and, his wife, &c."
Among the York wills there is the will of John Bradford of the Heth, dated June 20th, 1516. He was the eldest son of John Bradford, whose will was dated from Salley, and he disposes of his estate to his eldest son, also named John; to "my kinsman John Waterton" (Watton); "to my son-in-law John Sheffield," who married his daughter, Johan, to "my son-in-law, Nicholas tempest, and my daughter Beatrix," the rest to "Elizabeth my wife and my son John."
Elizabeth, wife or widow, took the veil after her husband's death, as under date November 28th, 1516, occurs the entry in the registers from Rome, given in the Yorkshire Archaeological Journal "Licence to Richard, Bishop of Negropont, to veil Elizabeth, widow of John Bradford of Heath, Parish of Warmfield."
Beatrice, daughter of John Bradford of Heth, was married to Nicholas younger son of Sir, Richard Tempest, of Bracewell by Rosamund Bolling, his wife. She and her husband are named in the will of Walter Bradford, of Houghton, near Pontefract, her uncle. In the will of Sir Richard Tempest, of Bolling, made January 27th, 1536, occurs the following:- "Also I gyve and bequeathe unto my son Nicholas Tempest all such lands which I did purchase of John Bradford, his fader-in-law, lying in Bradford, now in the tenure of Edward Midgley." Beatrice was dead in 1552, and Nicholas Tempest had taken to wife Isabel, daughter of Henry Kyghley, Esq. of Inskip, Co. Lanc. (D. of Lanc. Pleadings).
The eldest son of the last named John Bradford was named Robert, and he also had daughters, Beatrice and Elizabeth.
The last evidence in the form of testament we have of the Bradfords of Warmfield or the Heath, is that contained in the will of Walter Bradford, of Houghton, Pontefract, second son of John Bradford, the elder. He orders his body to be buried beside Margaret, "My wife deceased," in the Parish Church of Castleford. To Elizabeth "My now wife," he makes bequest, also to his brother Christopher, to Joan Sheffield and Beatrix Tempest, his nieces, and their heirs. "To my brother Christopher, my great ring of gold, wherein is gravyn Brad with a ffurth, and next to his son Thomas Bradfurth, and in default to John Bradfurth, my nevvy." To Brian Bradforth, of Stanley, and his son Brian, &c. Also to Ann Lokkay, "Balye-wiff of Bradford," 10/-. To Nicholas Lokkay, 10/-. To Isabel, my brother Christopher's daughter, xxs."
The will of Walter Bradford, of Houghton, was proved January 27th, 1530.
An impression of the seal of the great ring of gold, "alluded to in the will, is attached to a Bradford deed in the British Museum, of which the following is a copy in Latin, furnished me by Mr. J.G. Bradford. The translation is also annexed. It is dated 1442.
(Add. Charters, Brit. Mus. 16930.)
Carta qua Margareta, nuper uxor Willielmi Slyngesby concedit Johanni Slyngesby filio Willielmi filii sui, terras iu Skryvene et North Stodley, tenend. dicto Johanni et heredibus de corpore Isabellae, filiae Walteri Calverley, procreatis. Test. Rog. Wardi, Mil., Walt. Calveley, et aliis.
Dat. 5 Maii, 20 Hen. VI., [1442]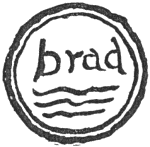 TRANSLATION
Charter whereby Margaret, late the wife of William Slyngesby, grants to John Slyngesby son of William her son, lands in Skryene and North Stodley, to hold to the said John and (his) heirs, begotten of the body of Isabella, dau. of Walter Calverley.
Witnesses, Roger Warde, Knt., Walter Calverley and others.
Given 5 May. 20 Hen. VI (1442)(Add. Charters, Brit. Mus. 16961.)
Indenture between John Bradford and Thomas Calverley, settling terms for repayment of £20. lent by latter to former, dated 22nd of Nov. 18, Edwd. IV., [1475]. To this deed is attached a seal somewhat worn, but [b]rad can be traced, so that the seal mentioned by Walter Bradford in his will, apparently descended to him. From the date of the Slyngesby Charter, (1442), it would almost appear that Wm. of Warmfield must have used this device, as he was living at the time the deed was executed.
According to a note in Vol. IV. "Testamenta Eboracensis," Brian, the younger son of William and Isabel Bradford, of Warmfield, first named, commences the line of the Bradfords of Stanley. Stanley is a township and graveship within the manor and parish of Wakefield, adjoining to Warmfield. From an Inquisition held at Wetherby, in April, 1559, it appeared that Brian Bradford died on the 20th November, 1558, seized of one capital messuage called Stanley Hail, sixty acres of arable, meadow, and pasture land in Stanley, worth £5 per annum. Also of a tenement called the Cliffe, in Wakefield, and of a close called Parson's Flat in Stanley, two closes in Thornes, &c. His son and heir was named Robert, and was aged thirty at the time of the inquisition.
It would appear that the Stanley branch had little if any connection by means of their property with Bradford or its immediate neighbourhood. On the other hand, the Warmfield or elder line had distinctly connection with it through property they possessed there.
In the Manor Court Rolls of 1448, is a piece of land (waste) for which 2d. year, was to he paid, to William Bradford, which was, adjacent, to Bentcliffe, at the termination of his grange. Again in 1443, it is stated that John Bradford, for the consideration of 1d. per year, secures a piece of land above Bradford church or near it.
The reference in the will of William Bradford to the chapel of the Holy Trinity and St. Sitha, situate near the Ivebridge in Bradford, is interesting, and it is scarcely to be supposed that he would order payment for a priest for four years there, and for only three at Warmfield, without his; having, had a strong territorial interest in Bradford, or a strong attachment to the place from some other cause.
The will of his son and heir, John Bradford, given at the Abbey of Salley in 1495, "where I now am," is even more interesting. Leaving out of account the curses and malisons which were to descend upon any one for maladministration of his estate, it is evident that he had considerable property in Bradford, and which, there is every reason to suppose, he inherited from his father, William. He says:- "I desire to make estate unto my son john, (his eldest son,) of two messuages, &c., called Boldhame, certain closes called Barrode, and one littel close upon the West side, over the beck there; also certain closes under Bradford Cliffe, and joyning to the water there called Bradford beck, called Robynrod, late purchased of Richard Grene; messuages in Horton and Manningham, with a piece of land lying together and somewhat enclosed in Bradford &c. The term "Boldhame" is a clear misprint, and should be "Boldshawe," for various reasons. In the MS. which I have seen several names occur which leads me to identify part of the property left by John Bradford, as lying near if not forming part of what was decidedly the Boldshay estate. It will be remembered that the Boldshay estate, part of the Glebe lands of Bradford, passed to sir John Maynard, as owner of the Bradford Rectory, and subsequently became the property of the Hemingways.
The "Bentleys" or "Bentcliff" immediately adjoined to Boldshay in the middle of last century, and might have originally formed part of it.