Cockfighting
Research in Progress
(First published in 1986 in volume 2, pp. 75-78, of the third series of The Bradford Antiquary, the journal of the Bradford Historical and Antiquarian Society.)
At the official opening of the new premises for Bradford District Archives on 27 September 1985 there was a small display of documents in the entrance hall. One of the exhibits was a manuscript booklet from the Spencer-Stanhope collection, containing details of cockfights. This grisly sport is something to which I have never paid much attention, but I thought that a facsimile of a page from such an unusual document might be of interest to our readers, especially in view of recent court cases. Having obtained a photocopy I decided that a few words of explanation were necessary, so I sat down to examine the booklet and other documents about cockfighting which were in the same envelope. There was a great deal of material in a large cardboard box, all on the same subject, but I had only enough time to skim through it and take a few notes.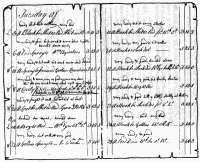 Quite by chance a few days earlier I had begun to read, once again, Mrs Gaskell's Life of Charlotte Bronte. At the outset Mrs Gaskell decides to acquaint readers with the wild and rough ways of the people of Haworth, among whom Miss Bronte spent her formative years. While the common folk may have been noted for their 'sour rudeness' the upper classes set a poor example to them, and she tells of a squire whose great amusement was cockfighting. He was so obsessed with this occupation that on his death-bed he ordered his cocks to be brought in so that he could watch their bloody battles.1 This seems far-fetched, but the documents in the Bradford collection show that this savage and brutal sport was widespread in the north and midlands during the 18th century. It was a highly organized business and the 'gentlemen of England', rather as in racing, had their strings of cocks, which were trained and looked after by men who kept a careful eye on form and gave written accounts of all the battles.
I was particularly interested in the argot used in the reports. The birds are described in a kind of shorthand:
"A Boxen pile
A Ginger br Shit w red
A Streak br Yellow
A Yell Dk Lt Eye Or Rt"2
The comments on the fighting make gruesome reading:
"Very good - died of a cut throat.
Ready & good, a broken thigh.
Dropped dead in a few blows."
Sometimes there are details of a bird's peculiarities and deformities:
"very stout. This cock's neck had been several times twisted about at his walk … Radcliffe tells me but so - so very hot."
Contests took place locally at Wakefield, Halifax and Horsforth. Bradford, which had a cockpit, does not seem to have been one of the main battle grounds, but there is a report on the 'Tryals at Bradford on Feb. 6 1754'. Inter-county contests were held - the Roses match at Manchester, and on April 2 1745 Yorkshire took on the Derbyshire cocks at Chesterfield.
A few days after my spell of note-taking I was glancing through a scrapbook, when I came across an article by John Hewitt in the Bradford Telegraph & Argus, 21 February 1984, on the subject of cockfighting, which has never quite died out in Yorkshire. There used to be many unofficial pits in and around Bradford, and he quoted two men who actually witnessed the fights fifty or sixty years ago. Apparently cocking was a form of entertainment provided for the boys of Giggleswick School until 1826.
So far I had seen no reference to the effects which cockfighting has had upon our vocabulary, but I remembered the unpleasant practice of'counting out' in my schooldays:
"One, two, three,
I'm cock ovver thee,
Six, seven, eight,
Thaa dardn't feight."
I am not sure, but I think 'four and five' were left out, probably in the interests of scansion. Higher up the scale some schools had a 'cock house'. At York in 1750 'A Firey Fumice', one of Sir John Lister Kay's birds, was 'ready enough but very bad at first & wd not fight on the blind side & sulky at last'. So those who go round the scrum on the open side are probably following the example of a Firey Furnice. We read a lot about 'cock walks', (and we all know 'cock of the walk') but I wasn't quite sure what they were, so I went to Bradford Central Library to find out. I then discovered that someone had got to the South Pole before me. There was a typescript account of 'Cockfighting in Yorkshire', by Lilian Robinson, one of our contributors last year, and the subject of 'Profile'. Old West Riding,/span> immediately came to mind, and when I got home I took out 'Vol 2 No.1 Spring 1982'. There it was, on page 10. I had seen the article three years ago and glanced through it: but memory fails. Miss Robinson had caught me on the blind side. Her account, based on the Spencer-Stanhope documents, is concise, giving all the necessary details and references, with explanations and a glossary of terms used. So, for example, we find:
"COCK WALK
A place where game cocks were kept. They were usually separated from the other birds when they started to become aggressive, and then kept in separate walks to recuperate after battles."
"and BATTLE ROYAL
A number of cocks were put into the pit at the same time, the survivor being the winner."3
If no Ph.D. thesis on 'Cockfighting' has yet been written there is enough material in the Spencer-Stanhope manuscripts to enable someone to make a start.
J.F.
References
1. Mrs Gaskell, The Life of Charlotte Bronte, 1857 (Dent 1973), pp.13-14. (back)
2. Spencer-Stanhope MSS. Bradford District Archives These documents (806) were being re-catalogued when I saw them so I have not given detailed references. (back)
3. OWR, vol. 2, no. 1' 1982, p.13. (back)
Joseph Strutt, Sports & Pastimes (1881), contains valuable general information.
© 1986, The Bradford Antiquary