Kenneth Baker - A Profile
(First published in 1989 in volume 4, pp. 80-82, of the third series of The Bradford Antiquary, the journal of the Bradford Historical and Antiquarian Society.)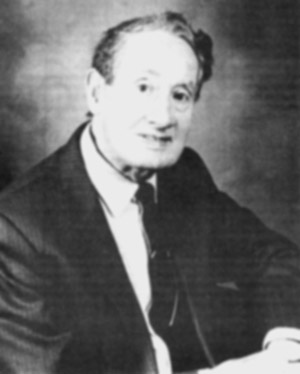 One of my last duties as President of the Bradford Historical and Antiquarian Society was to introduce Kenneth Baker, who spoke to us, on 4 March 1987, about 'Bradford: a cathedral in a multi-cultural city'. When the evening came I realised that although we had been good friends for five or six years I knew very little about the speaker. As a consequence my remarks were brief and inadequate.
By the time I had decided to compile this profile I was little better informed, although I had seen a few autobiographical notes contained in an article which Kenneth Baker wrote about Belle Vue School on its centenary in 1977. When I first made my intention known to him I received only slight encouragement, and on a second mention he shrugged his shoulders and asked me not to make too much of it. Now that I have seen some of the tributes paid to him over the years, I know that whatever I say in such a short space will be more than ever inadequate.
In the centenary article, Kenneth Baker set down what, in his opinion, were the distinguishing features of the school at which he was a pupil from 1917 to 1924, particularly the forward-looking curriculum, with its attention to the languages and literature of other nations, and - a major influence on his own studies - the reference library, which in a small way he helped to run. From this, he said, sprang his lifelong interest in books and libraries.
Until long after the First World War not many Bradford children went to 'higher grade schools', let alone to university, but in 1924 Kenneth Baker left Belle Vue for Liverpool, attracted by the reputation and personality of Professor Percy Maude Roxby, under whose hand geography in the University had become a study of humanity ('chaps' as well as 'maps') and a training ground for international citizenship. In 'A Pattern of Life', written for The Franciscan in 1972, Kenneth Baker acknowledged Professor Roxby's greatness and the debt he owed to him. It was the kind of influence which led him and some friends in the Student Christian Movement to form the Cosmopolitan Club; and a pattern of life emerged in which, to quote from The Franciscan, 'religion, international relations and geography were interwoven strands'.
After graduating with First Class Honours in 1927 , Kenneth Baker was awarded a scholarship combined with a post as part-time tutor in the Liverpool Department of Geography. This led to a Master's Degree in 1931 and a lectureship on the staff of the department, a position which he held until his resignation in 1946.
A period of study leave in 1933 gave the young graduate his first sight of East Africa. He had already compiled a population map of Uganda and presented a paper on population geography to the British Association's Bristol meeting in 1930. After his return to this country, in 1934, the results of further studies were shown in papers read at meetings of the British Association in Aberdeen and the International Congress of Anthropological and Ethnological Sciences in London Kenneth Baker's researches continued throughout his career at Liverpool University, and after reading the Report of the Commission on Higher Education in the Colonies (1945), he applied for a tutorship at Makerere College, Uganda, with the result that 1946 saw him travelling up the Nile to take up his appointment. In 1949, as a significant step in the development of education in East Africa, Makerere entered into the special relationship with the University of London through which it became known as the University College of East Africa At this stage he became the first professor of geography at Makerere, and it was perhaps something more than chance which brought two other former pupils of Belle Vue to join him on the staff, Harold Holdsworth, a librarian, and Maurice Woodhead, a chemist. Kenneth Baker's contribution to the work at Makerere was acknowledged by his appointment as Vice-principal of the College from 1965 to 1967 and in 1968, after a year as Adviser (Academic Administration), he came back to Britain.
In 1971 a collection of essays, a Festschrift, was presented to him by former colleagues at Makerere, in which was an account of his work at the College and a list of his contributions to East African studies. It summed up Professor Baker's achievements in three vital areas: he had founded a genuine university department of geography, had promoted the training of East African staff, and had played a significant part in helping to run the Federal University.
Kenneth Baker is President of the Bradford branch of the Geographical Association, and it is strange that after so long a time devoted to geography he should find himself, in retirement, also acting as honorary archivist at Bradford Cathedral, where he is most frequently called upon to assist those who are engaged in historical research.
In July 1972 the honorary degree of Doctor of Letters was conferred on Samuel John Kenneth Baker by the University of Liverpool. The oration referred to the credit which this 'devoted son' had brought to his native Yorkshire, to the country, to Uganda and to the University itself. On 1 July 1983 the University of Bradford followed this example and awarded him the honorary degree of Doctor of Science. The orator spoke of Dr Baker's work in promoting geography in two continents, and of the encouragement he had given to others through his dedication and enthusiasm. The Bradford oration referred to Dr Baker as 'a modest man', and Liverpool's described his manner as 'quiet and almost self-effacing'. This probably explains why, although he was honoured with the OBE in 1966, very few people know about it.
The three strands mentioned earlier: religion, international relations and geography, are still prominent in Kenneth Baker's life, but a fourth may now be added. Apart from a preoccupation with church archives, his research has taken an increasingly historical direction, notably through biographical studies. In addition to the contribution to this journal, he has written appreciations of two famous geographers, John Harold Wellington (1892-19811), and Paul Vidal de la Blache (1845-1918).* But as every schoolchild knows, history is governed by geography, so there is no danger that it will ever rise above its station in Kenneth Baker's scheme of things.
* The first was published in Geographers biobibliographical studies 1984 pp. 135-40, and the second is due to appear in the 1988 issue of the publication
J.F.
Kenneth Baker contributed Incidents in the Lives of Robert Cartwright and James Boardman Cartwright to this issue of the journal.
© 1989, The Bradford Antiquary